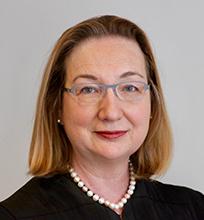 Judge Beryl A. Howell was appointed to the District Court on December 27, 2010. She received her B.A., with honors in Philosophy, in 1978 from Bryn Mawr College and her J.D. in 1983 from Columbia University School of Law, where she was a Harlan Fiske Stone Scholar. Following law school, Judge Howell served as a law clerk to Judge Dickinson R. Debevoise in the District of New Jersey and, subsequently, as a litigation associate at the law firm of Schulte, Roth & Zabel. From 1987 until 1993, Judge Howell served as the deputy chief of the Narcotics Section and an Assistant U.S. Attorney in the U.S. Attorney's office for the Eastern District of New York, where she was awarded the Attorney General's Director's Award for Superior Performance and commendations from the U.S. Attorney and Federal and local law enforcement agencies for her work on international narcotics, money laundering and public corruption cases.
 
From 1993 until 2003, Judge Howell served on the staff and as general counsel of the United States Senate Committee on the Judiciary. From 2004 until January 2013, Judge Howell served two terms as a Commissioner on the United States Sentencing Commission. Following her service on the Judiciary Committee, Judge Howell also worked, from 2003 until 2009, as executive managing director and general counsel of a cybersecurity and digital forensics consulting and technical services firm, for which she headed the largest regional office in Washington, D.C. During her tenure at the firm, Judge Howell was awarded a Director's Award by the Director of the Federal Bureau of Investigation for her "valuable contributions" to the successful investigation and prosecution of a cyber-extortion case. Among her other awards, Judge Howell has been inducted into the National Freedom of Information Act Hall of Fame and is the recipient of the 2004 First Amendment Award by the Society of Professional Journalists. Judge Howell has taught Legal Ethics as an adjunct professor at American University's Washington College of Law and is a member of the American Law Institute.
Judge Howell served as Chief Judge of the U.S. District Court for the District of Columbia from March 2016 until March 17, 2023, during which period she also served as a member of the Judicial Conference of the United States. She previously served, from October 2013 until March 2016, as a member of the Judicial Conference Committee on Information Technology and has been appointed by the Chief Justice to serve on the Judicial Conference Committee on Criminal Law, beginning in December 2023.
Staff Information
Chambers:  (202) 354-3450
Courtroom Deputy:  (202) 354-3124
Court Reporter:  (202) 354-3242