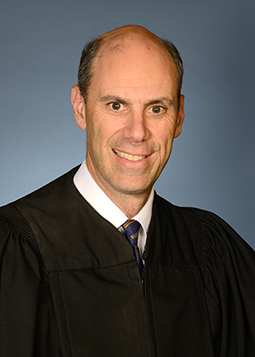 Judge James E. "Jeb" Boasberg was appointed to the District Court in March 2011. Judge Boasberg is a native Washingtonian, having graduated from St. Albans School in 1981. He received a B.A., magna cum laude, in History in 1985 from Yale College, where he also played basketball. Judge Boasberg then received an M.St. in Modern European History from Oxford University in 1986 and a J.D. from Yale Law School in 1990.
Judge Boasberg next served as a law clerk to Judge Dorothy W. Nelson on the U.S. Court of Appeals for the Ninth Circuit. Following his clerkship, he was a litigation associate at Keker & Van Nest in San Francisco from 1991 to 1994 and at Kellogg, Huber, Hansen, Todd & Evans in Washington from 1995 to 1996. In 1996 Judge Boasberg joined the United States Attorney's Office for the District of Columbia as an Assistant United States Attorney, where he served for 5½ years and specialized in homicide prosecutions.
In September 2002, Judge Boasberg became an Associate Judge of the District of Columbia Superior Court, where he served in the Civil and Criminal Divisions and the Domestic Violence Branch until his appointment to the federal bench in 2011.
Judge Boasberg also served a seven-year term on the United States Foreign Intelligence Surveillance Court beginning in May 2014.  Appointed by Chief Justice John Roberts, he was the Court's Presiding Judge from January 2020 to May 2021.  He is currently the President of the Edward Bennett Williams Inn of Court and the past Chair of the Governing Board of St. Albans School.
Clerkship and Internship Information
Judge Boasberg employs three one-year clerks. Information about clerkship vacancies and the particulars regarding applications may be found on OSCAR. Judge Boasberg also employs interns, and applications may be mailed to chambers or sent to Boasberg_Chambers@dcd.uscourts.gov at any time. Applications should include a cover letter, resume, and transcript with at least one semester's grades.
Staff Information
Chambers: (202) 354-3300
Courtroom Deputy:  (202) 354-3144
Court Reporter:  (202) 354-3247