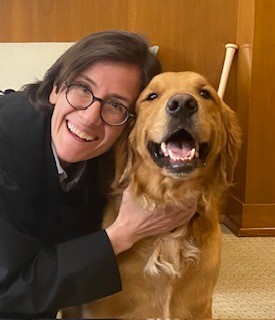 Judge Reyes was appointed as a United States District Judge in February of 2023, assuming the seat previously held by Judge Colleen Kollar-Kotelly.
Judge Reyes served as a law clerk to Judge Amalya L. Kearse on the U.S. Court of Appeals for the Second Circuit (2001).  After clerking, Judge Reyes became a litigation attorney at Williams & Connolly LLP, where she spent her legal career from 2001 to 2023.  While there, she served as the co-chair of the firm's International Disputes practice group and on its Executive Committee.  Her practice focused on international litigation, representing foreign governments, foreign government officials, and multinational companies.  Judge Reyes also worked on patent, legal malpractice, and other complex civil litigation matters.
 Judge Reyes devoted substantial pro bono time to assisting refugees and organizations that assist refugees in obtaining asylum, including the United Nations High Commissioner for Refugees and Human Rights First. In 2016, she received the Legacy Award from Unlikely Heroes for her successful representation of young women escaping persecution by a regional terrorist organization.  The Legal Times has recognized her as a "Champion" for her pro bono efforts (2009). 
In 2023, the Hispanic National Bar Foundation presented Judge Reyes with its "Judicial Leadership Award," which recognizes excellence in the legal profession.  While in private practice, Judge Reyes earned accolades from The Legal 500 as a "Leading Lawyer" (2023) and "Next Generation Lawyer" (2020-2022) in International Litigation and from Benchmark Litigation as a "Local Litigation Star" (2019-2023).  The National Law Journal recognized her multiple times, including on its Outstanding Women Lawyers list recognizing "the 75 most accomplished female attorneys working in the legal profession today" (2015); as an "Immigration Trailblazer" (2018); a Washington D.C. "Rising Star" (2014); and as a Minority 40 Under 40 (2011).  In 2017, the Women's Bar Association of D.C. named her as its "Woman Lawyer of the Year."
Judge Reyes was born in Montevideo, Uruguay, and grew up in Louisville, Kentucky.  She received her J.D., magna cum laude, from Harvard Law School (2000), her M.I.P.P., with honors, from the School of Advanced International Studies at Johns Hopkins University (2014), and her B.A., summa cum laude, from Transylvania University (1996).  Along with her admissions to bars of the United States, Judge Reyes was listed on the Roll of Solicitors in England and Wales.  Judge Reyes co-taught Advocacy in International Arbitration as a Clinical Visiting Co-Lecturer at Yale Law School (2018, 2019) and co-taught Trial Practice, Experts at Georgetown University Law School (2017). 
Judge Reyes is often joined in Chambers by her golden retriever, Scout, who obtained his own Juris Dogtor, summa cum laude. 
Staff Information
Chambers: (202) 354-3350
Courtroom Deputy:  (202) 354-3176