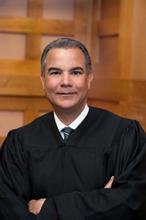 Judge Christopher R. "Casey" Cooper was appointed to the District Court in March 2014 following his unanimous confirmation by the U.S. Senate. Judge Cooper received a B.A., summa cum laude, from Yale University in 1988. Judge Cooper went on to graduate with distinction from Stanford Law School in 1993, serving as President of the Stanford Law Review and as a board member of the law school's pro bono legal clinic.
Following law school, Judge Cooper clerked for then Chief Judge Judge Abner J. Mikva on the U.S. Court of Appeals for the D.C. Circuit and from 1994 to 1996 served in the U.S. Department of Justice as a Special Assistant to the Deputy Attorney General. Judge Cooper then entered private practice, where for 17 years at Miller, Cassidy, Larroca & Lewin (1996-2000), Baker Botts (2001-2012), and Covington & Burling LLP (2012-2014) he represented both individuals and corporations in a wide range of litigation matters. Working in Washington and London, Judge Cooper specialized in defending clients in white-collar criminal matters and conducting internal corporate investigations of alleged fraud and corruption.
Judge Cooper lives in Washington with his wife and two sons. 
Staff Information
Chambers:  (202) 354-3480
Courtroom Deputy:   (202) 354-3422
Court Reporter:   (202) 354-3187