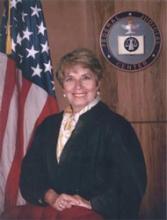 JUDGE BARBARA JACOBS ROTHSTEIN is a visiting United States District Judge from the Western District of Washington. She most recently served as Director of the Federal Judicial Center in Washington, D.C. from 2003-2011. She was chief judge of the Western District of Washington from 1987-1994. She graduated Phi Beta Kappa from Cornell University and attended Harvard Law School where she was the winning oralist in the Ames Moot Court competition.
After law school she practiced law with a private firm in Boston, Massachusetts and with the Consumer Protection and Antitrust Division of the State of Washington's Attorney General's office. Judge Rothstein taught trial practice at the University of Washington Law School. Before her appointment to the federal bench in 1980, she served as a King County Superior Court judge for the State of Washington.
Judge Rothstein has trained judges and lawyers in many countries helping to improve the rule of law and the role of an independent judiciary. She has presided over many complex and controversial criminal and civil cases. She has served on a variety of committees including the Federal-State Relations Committee of the United States Judicial Conference and the Ninth Circuit Standing Committee on Gender, Race, Religious and Ethnic Fairness.
Judge Rothstein is a frequent lecturer and is a member of the American Law Institute. She is a Commissioner on the National Historical Publications and Records Commission. She serves on the Judicial Advisory Board of American Society of International Law (ASIL), the Board of the Rule of Law Initiative (ROLI) of the ABA, the Judicial Advisory Board of the Sedona Conference®; the Board of the Institute of Judicial Administration (IJA) at NYU Law School and the Board of the Avon Global Center for Women and Justice at Cornell Law School. She served on the board of EINSHAC, an educational affiliate of the Human Genome Project. She also serves as a member of the National Academy of Science's Committee on Science Technology and Law.   
Staff Information
Courtroom Deputies:
 (202) 354-3101
 (202) 354-3083