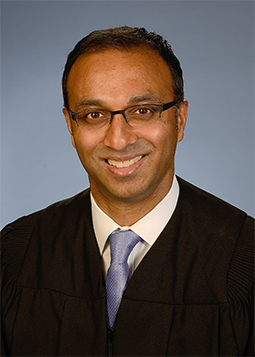 Judge Amit P. Mehta was appointed to the United States District Court for the District of Columbia on December 22, 2014.  Born in Patan, India, Judge Mehta received his B.A. in Political Science and Economics from Georgetown University in 1993 and his J.D. from the University of Virginia School of Law in 1997.  
After law school, Judge Mehta worked in the San Francisco office of the law firm Latham & Watkins LLP before clerking for the Honorable Susan P. Graber of the United States Court of Appeals for the Ninth Circuit.  Following his clerkship, Judge Mehta worked at the Washington, D.C.-based law firm Zuckerman Spaeder LLP from 1999 to 2002.  In 2002, Judge Mehta joined the District of Columbia Public Defender Service as a staff attorney.  Judge Mehta returned to Zuckerman Spaeder in 2007, where his practice focused on white-collar criminal defense, complex business disputes, and appellate advocacy.  
Judge Mehta served on the Board of Directors of the Mid-Atlantic Innocence Project and is the former co-chair of the District of Columbia Bar's Criminal Law and Individual Rights Section Steering Committee.  He is also a former Director of Facilitating Leadership in Youth, a non-profit organization dedicated to after-school activities and mentoring for at-risk youth. 
Staff Information
Courtroom Deputy:  (202) 354-3164
Court Reporter:  (202) 354-3249