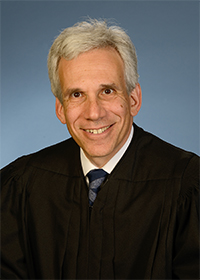 Judge Randolph Daniel Moss was appointed to the District Court on November 14, 2014. Judge Moss received an A.B., summa cum laude, from Hamilton College in 1983, and a J.D. from Yale Law School in 1986.  Judge Moss currently serves as the Chair of the Committee on Criminal Law for the Judicial Conference of the United States and as a Liaison Representative for the Administrative Conference of the United States. 
After law school, Judge Moss served as a law clerk first for Judge Pierre N. Leval of the Southern District of New York and then for Justice John Paul Stevens of the United States Supreme Court. Following his clerkships, he worked at the law firm Wilmer, Cutler & Pickering from 1989 to 1996. He next joined the United States Department of Justice, Office of Legal Counsel, where he served as Deputy Assistant Attorney General from 1996 to 1998, Acting Assistant Attorney General from 1998 to 2000, and Assistant Attorney General from 2000 to 2001.
After leaving the Department of Justice, Judge Moss returned to the Washington office of his previous law firm, now Wilmer Cutler Pickering Hale and Dorr LLP, where he chaired the Regulatory and Government Affairs Department. He left the firm upon his confirmation to the bench in November 2014.
Staff Information
Courtroom Deputy:  (202) 354-3084
Court Reporter:  (202) 354-3246